Concert for The Elohim Academy
St Paul's Church, Lenton Boulevard, Nottingham, NG7 2BY.
Global Harmony will be singing 2 x 30 minute sets as the main attraction with other supporting acts.
We are looking forward to performing in this variety concert for the Senior Citizens of Melton - we are the closing act and will be entertaining our audience with some rousing numbers including Fa Fetai from Samoa and our new action song, Oro ce vie from Macedonia.
Click here for link to the show
Click on the link below for a video of the Sing For Hope Competition, which raised a fantastic £9,000 for cancer charities.
As well as singing up a storm, Global Harmony raised £600 of that total.
The beautiful setting of St Marys Church in Melton Mowbray added an extra sparkle to our Christmas concert on Saturday 13 December, when a record number of over 60 choristers assembled to sing their hearts out.
It was a cold and frosty evening, which lent a festive feel to the occasion as more than 150 people enjoyed our programme of the traditional and unusual. The theme was Peace, and songs of peace began the first and second half. The first half ended with an innovative exit, as the choir processed past the audience to the back of the church whilst singing "Let there be Peace".
Highlights of the evening
Stille Nacht (Silent Night) was sung by us in German for the first time in a number of years. Alison, Helen and Ann Marie's voices blended in perfect harmony in the first verse.
The choir thoroughly enjoyed singing "Oh what a beautiful morning" accompanied by the audience.
A lighthearted pantomime atmosphere was created as singers donned wedding headgear and a mysterious hooded figure lurked in the side aisle - this was for a Macedonian song, "Oro ce vie", a very lively tale of a monk who gategrashes village wedding celebrations and dances off with one of the brides. A special mention to Jules and Rosalind, who portrayed the happy couple with great enthusiasm.
Close Harmony, our smaller group of singers, premiered "California Dreaming".
Charities
Our chosen charities this Christmas are Parkinson's and MIND. The concert, raffle and the carol singing session on Sunday at Sainsbury's raised £1,600 which will be divided between them.
Many thanks as always to our irrepressible and talented leader, Liz for conducting and supporting us so well and to my Committee colleagues for organising the event.
Sarah Bowie
Please click below for videos of some of the songs.
We Sang for Hope…
"What a fantastic evening!" That's what I keep hearing from people.
And yes, that's what it was for me. An evening filled with unexpected triumphs!
A few tweets:
"Wow!!! What an incredible night!! Thank you to everyone for being there. Totally brilliant."
"What an incredible performance!! So proud!!"
"What a FANTASTIC thing@WeSingforHOPE surprised by a fantastic experience! Haunting Infectious Beautiful more more…"
"What a fantastic fantastic fantastic evening! #singforhope #fantastic"
"We're gonna sing our socks off! #globalharmony #singforhope"
Together with just under half of Global Harmony Choir, I ventured forth to St James the Greater in Leicester for "Sing for Hope" a Community Choir Challenge in aid of local charity Hope Against Cancer.
Nobody quite knew what to expect, this is not something we have done before and as an extra to our scheduled performances we hoped we could put on an appropriate show. With the show's 500 seats sold out, the venue of St. James the Greater Church was one of the most resounding spaces we've been to.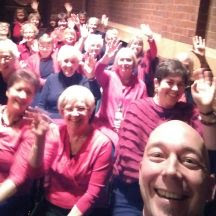 As you may know we are an a cappella community choir that aims to truly sing from the heart and as such we don't use sheet music in practice or performance. Perhaps we learn by trying to 'becoming the sound' after repetitively 'sharing' the parts, (see Natural Voice Network http://www.naturalvoice.net/ for more info) as they say "celebrating the voice you were born with, rather than trying to train it to an ideal of perfection". And so faced with fellow choirs with sheet music in hand I wondered if we were a tad out-of-place. The word 'choral' was being repeated… is that us?
Any fears we may have had were unfounded. The evening was filled with diversity and variety – perhaps that's what community choirs are about; a conduit where people from all backgrounds, choirs and stages of life can join together in a common practice. Yes, it was a challenge and not without worry, anxiety and apprehension as people said "what about this", "what about that", "I'm worried about this…" a microcosm of life captured in an evening.
We'd practiced, we'd performed these songs before, we knew we could sing our three songs but apprehension filled the air; unknown elements, unfamiliar surroundings, seven other highly competent choirs; 200 singers and 500 spectators, and not to mention the gaze of 4 professional judges.
The other choirs put on fantastic performances from an octet to a full-bodied stage, we experienced minutiae and superlative with songs from the jolly and joyful to the cuttingly personal.
Who knows how or why but all I can say is after our performance I 'felt' we'd done our utmost best. Yes, it's a personal reaction but after six years and many different enjoyable performances I have to say I have never been more proud of the choir I sing with, we did our thing, in the only way we know how. Perhaps some of the professionalism and je ne sais quois from the evening infected us, but I felt that the choir responded to our MD Liz beautifully. She helped our sounds dance with her embracing metering influence. As I say, I've never been more proud. Choirs: simple complex things!
A few words about the winners: Kibworth Ladies Choir performed superbly.
From a beautiful "Carol of the Bells" to a hyper-personal anxious "Creep", their sound came out as one voice from a choir of about thirty people. A homogeneous single sound from multi-parted complex arrangements. The conductor did so much more than conduct. It seemed her voice came out of the choir! I would look our for concerts by these ladies in the future!
Thanks Global Harmony !
…and thanks to The Spectaculars from Burton Overy,
The Willow Singers from Blaby,
Humberstone Choral Society,
The Foxton and Gartree Community Choir,
Kibworth Ladies Choir,
The Vale Choir from Rutland, and
Dunton Bassett Community Singers.
And thanks Helen Alloway! …as judge said Ken Burton said 'genius'!
Julian Richards
0781 351 4112